When most people think of Scandinavian travel, they picture fjords, mountains and the dramatic landscapes of the Arctic Circle. But for a slice of authentic Nordic life, consider the lesser-explored central part of Sweden connecting its capital, Stockholm, and Norway's first city, Oslo.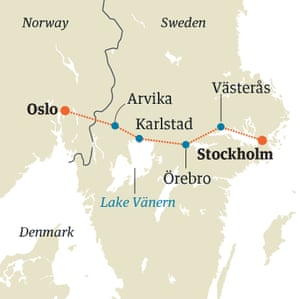 The route is mostly flat, but passes beautiful lakes, chief among them the spectacular Lake Vänern, the largest in the EU, and lush landscapes dotted with traditional wooden houses, many painted bright red. More than half the total land area of Sweden is covered in forest (an area the size of the UK), and especially on the approach to Norway, you'll pass farmland and woodland that give an idea of why friluftsliv, or "outdoor life", is a cornerstone of the Scandinavian lifestyle. Many Swedish families spend weekends at their summer houses (usually less extravagant than that term suggests, not infrequently without running water) to unwind in the middle of nature.
Travelling by train between smaller towns, this itinerary isn't for those who want to cram sight after bombastic sight into their holiday. There are cobbled streets to stroll, stopping for coffee and cake, living museums to explore, and plenty of opportunities to hike, cycle or canoe around vast nature reserves and pretty islands.
Trains run directly between the two capitals, but dividing up the journey allows for visits to charming smaller towns and to experience nature at close quarters. Sweden's long-distance and regional trains are comfortable, with wifi, food and drink on board.